Participating Institutions/Program Training Sites
John D. Dingell VA Medical Center
The John D. Dingell Veterans Affairs Medical Center is a 267-bed primary, secondary, and tertiary care health care facility providing acute medical, surgical, psychiatric, neurological, dermatological and intermediate inpatient care and both primary and specialized outpatient care to veterans living in the metropolitan Detroit area.  The hospital provides health care services to 330,000 veterans living in Wayne, Oakland, Macomb, and St. Clair counties.  This population represents 44% of the veteran population of the lower peninsula of Michigan.  The VA is located in midtown Detroit, adjacent to the Detroit Medical Center/Karmanos Cancer Institute. The WSU urology residents run the urology service at the VA including clinics, operating room, minor procedures, and inpatient/emergency room consultations. The VA provides the urology residents with an added measure of responsibility, autonomy, and decision-making. Junior and senior residents rotating at the VA Hospital manage the entire spectrum of adult urologic diseases and conditions.
Karmanos Cancer Hospital
The Barbara Ann Karmanos Cancer Institute (KCI) was first designated as a comprehensive cancer center by the National Cancer Institute in 1978. This designation is awarded to only 40 cancer centers throughout the country, and there are only two in Michigan. NCI-designated cancer centers are characterized by scientific excellence and the capability to integrate a diversity of clinical and research approaches to focus on the problem of cancer. All KCI members are faculty at WSU SOM. KCI is tightly integrated with WSU SOM and is accredited by both the National Cancer Institute and the American College of Surgeons Commission on Cancer.
KCI is recognized as a worldwide leader in cancer research. More than $60 million is expended in cancer research each year. Research efforts include basic/laboratory research (with more than 130 basic science researchers studying the causes, progression, treatment and prevention of cancer at the molecular and genetic levels), translational research, clinical trials, and Phase 1 clinical trials (Karmanos is one of only 14 Phase 1 programs in the country funded by the NCI).
KCI operates the Karmanos Cancer Hospital (KCH) and associated multidisciplinary oncology clinics. KCH serves as the "flag-ship" and center for the urology training program and is one of the primary practice sites of the full time WSU urology faculty. Urologic cancer care is delivered utilizing a multidisciplinary team made up of urologic oncologists, radiation oncologists, medical oncologists, pathologists, radiologists, and other providers. Surgery, chemotherapy and radiation therapy are often integrated into the treatment plans for patients with urologic malignancies.
While rotating on service at the KCH, urology residents will participate in complex cancer surgery and clinical decision-making in the cancer clinics.  Residents on the Karmanos rotation will also participate in other clinical activities such as surgery and consultations at the other hospitals on the central campus of the Detroit Medical Center including Detroit Receiving Hospital, The Rehabilitation Institute of Michigan, and Harper University Hospital.
Beaumont Hospital, Dearborn
Established in January 1953, this 632-bed full-service teaching hospital offers state-of- the-art emergency medicine, general medicine and surgery. Beaumont Hospital, Dearborn, formerly known as Oakwood Hospital, is home to three WSU-sponsored residency programs including urology. The hospital's signature feature is a $200 million-dollar surgical pavilion featuring state of the art surgical suites with integrated high definition video, laminar flow, and state of the art equipment including da Vinci robotic platforms. Beaumont Hospital, Dearborn, is staffed by WSU SOM full time urology faculty as well as private practice voluntary faculty and affiliate staff, all of whom participate in the training of WSU urology residents.
St. John Hospital and Medical Center Detroit, Michigan
St. John Hospital and Medical Center is a 772-bed teaching hospital in Detroit, known for excellence in cardiology, oncology, neurosciences, minimally invasive and robotic surgery, women's services, pediatrics, and medical education. The facility is also home to a Level II Trauma Center. St. John Hospital has 33,566 annual admissions, 109,071 annual emergency room visits and 15,677 annual surgical visits. The St. John Hospital rotation serves as a major training site for the Wayne State Urology residents and provides them with exposure to a wide variety of urological pathology including urological trauma. During this training experience, the Wayne State Urology department residents receive supervision and instruction from voluntary faculty and affiliate staff, almost all of whom have sub-specialty training and practice interests in various aspects of urology including pediatric urology, robotics, reconstructive urology, pelvic floor medicine, and urological oncology.
Helen De Vos Children's Hospital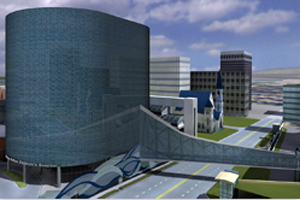 The Helen DeVos Children's Hospital opened its doors on January 1, 2011, marking a new era in children's health care in Western Michigan. The 212-bed, 14-floor, 464,000 square foot facility represents more than four decades of steady progress in improving pediatric care and bringing pediatric specialists to the region. The facility is located in Grand Rapids, Michigan, and is home to more than 200 pediatric physicians in 50 pediatric specialties and programs. Three fellowship-trained pediatric urologists provide the Wayne State University urology residents with a pediatric urology surgical experience, which is unparalleled. Residents participate in a wide range of outpatient and inpatient clinical exposures including traditional pediatric reconstructive surgery and robotic surgery.