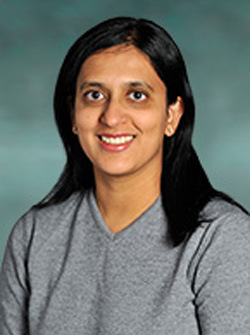 Nivedita Dhar
Office Address
Academic Office:
4201 St. Antoine, UHC-7C
Detroit, MI 48201
Phone: (313) 577-5222
Fax: (313) 577-5217
Click here for patient appointments
Narrative Bio
Dr. Dhar has specialty expertise in female urology and urologic oncology. In particular, she is interested in bladder cancer, urinary incontinence, pelvic organ prolapse, female sexual dysfunction, and interstitial cystitis. Dr. Dhar trained in urology at the Cleveland Clinic, and completed a fellowship in Urologic Oncology at the University of Bern in Switzerland.
Professional Experience
Honors
1994 (Summer) Howard Hughes Fellowship
1995 (Summer) Howard Hughes Fellowship

2005 Travel Scholarship, International Volunteers in Urology
2006 American Urologic Association Travel Awards, Society of Women in Urology
2009 European Association of Urology, Best Poster
Hospital/Professional Appointments
Jul 2007-Aug 2008
Associate Staff Physician, Glickman Urological Institute, Cleveland Clinic, Cleveland, OH
Sep 2008-Present
Assistant Professor, Department of Urology, Wayne State University, Detroit, MI