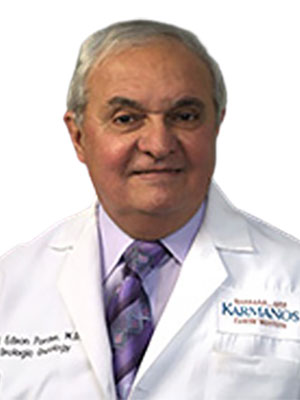 J. Edson Pontes
Office Address
Academic Office:
4201 St. Antoine, UHC-7C
Detroit, MI 48201
Phone: (313) 577-5222
Fax: (313) 577-5217
Click here for patient appointments
Education Training
1958 Collegio S. Joao, Fortaleza-Ceara, Brazil B.S. - PreMedicine
1964 Federal University of Ceara, Brazil M.D. -  Medicine
1967-68 Grace Hospital, Detroit, Michigan - Internship - Rotating/Surgery
1971 Wayne State University, Detroit MI - Residency  - Urology
Narrative Bio
Dr. J. Edson Pontes is a thought leader in urologic oncology and one of the pioneers in the diagnosis and treatment of prostate cancer. He is the former Chairman of the Urology Department at Wayne State University. Prior to arriving at Wayne State, Dr. Pontes served as director of urologic oncology at both the Cleveland Clinic and Roswell Park Cancer Centers. He remains active in the residency training program providing expert surgical instruction in complex oncology cases.
Professional Experience
Honors
1982 Medalha de Honra , Sociedade Brasileira de Cancerologia
1993 Professor Honoris Causa - Faculdade de Medicina - Universidade Federal do Ceara
1993 Honorary Member Sociedade Brasileira de Urologia
1994 Ministerio Federal de Justica - Medalha de Honra Ao Merito
1995 Honorary Member Academia Nacional de Medicina

Hospital/Professional Appointments
1980-84 Chief, Department of Urologic Oncology, Roswell Park Memorial Institute,Head, Section Urologic Oncology, Cleveland Clinic Foundation, 1984 1990
1990-2005 Specialist in Chief, Department of Urology, Detroit Medical Center Hospitals
Detroit, MI
1992-1994 Director of Clinical Cancer Center-DMC, Detroit, MI
1999-pres Vice President, International Medicine, Detroit Medical Center, Detroit, MI
Other Experience and Professional Memberships
Michigan Branch Urological Association
North Central Section of American Urological Associate
American Urological Association
Fellow, American College of Surgeons
Southwest Oncology Group
American Society of Clinical Oncology
Society of Surgical Oncology
American Association for Advancement of Science
Society of University Urology
Society of Urological Oncology - Founder Member
Associate Editor, The Prostate
Detroit Academy of Medicine
 
Publications
Books
J.E. Pontes, Ed.: Cancer De Prostate - Actualizaciones Urologicas - Pulso Ediciones. Barcelona, Spain, 1989
Novick AC, Streem SB, and Pontes JE: Stewart's Operative Urology. Williams and Wilkins. Baltimore 1989.
Montie JE, Pontes JE, and Bukowski R: Clinical Management of Renal Cell Carcinoma. year Book Med. Publishers Chicago 1990.
Kirk D and Pontes JE: The Management of Prostatic Carcinoma. Chapman and Hall, 1990.
Pontes J: Surgery of Genitourinary Pelvic Tumors: An Atlas. Wiley-Liss Publishers. 1983
Publications
Younes E. Haas G, Visscher D, Pontes JE, Puri RK and Hillman GG: Intralesional treatment of established murine primary renal tumor with interleukin-4: Localized effect on primary tumor with no impact on metastases. J Urol 153:490-493, 1995
Haas G, Pontes JE: Management of the Urologic Patient in the high risk patients: Management of the critically ill (ed) Edward Sivak, Thomas Higgins, Adam Seiver. Williams & Wilkins, 1995.
Pontes JE: Advances in urology. Salvage prostatectomy in recurrent carcinoma after radio therapy. Mosby - Year Book, Inc. Vol. 8, 1995.
Paulson D, Denis L, Orikasa S, Bartolucci A, Bouffioux C, Hirao Y, Jewett MA, Pagano F, Pontes JE: Optimal staging procedures, including imaging to define prognosis of bladder cancer. Int J. Urol 2(2):1-7, 1995.
Gao X, Grignon DJ, Chbihi T, Zacharek A, Chen YQ, Sakr W, Porter AT, Crissman JD, Pontes JE, Powell IJ, Honn KV: Elevated12-lipoxygenase mRNA expression correlates with advanced stage and poor differentiation of human prostate cancer. Adult Urology 46(2):227, 1995.
Younes E, Haas G, Visscher D, Pontes JE, Puri RK and Hillman GG: Intralesional treatment of established murine primary renal tumor with interleukin-4: Localized effect on primary tumor with no impact on metastases. J Urol 153:490-493, 1995.
Paulson D, Denis L, Orikasa S, Bartolucci A, Bouffioux C, Hirao Y, Jewett MA, Pagano F, Pontes JE: Optimal staging procedures, including imaging, to define prognosis of bladder cancer. Int J Urol 2(2):1-7, 1995.
Gao X, Grignon DJ, Chbihi T, Zacharek A, Chen YQ, Sakr W, Porter AT, Crissman JD, Pontes JE, Powell IJ, Honn KV: Elevated 12-lipoxygenase mRNA expression correlates with advanced stage and poor differentiation of human prostate cancer. Adult Urology 46(2):227, 1995.
Younes E, Haas GP, Dezso B, Ali E, Maughan R, Montecillo E, Pontes JE and Hillman G: Radiation-induced effects on murine kidney tumor cells: Role in the interaction of local irradiation and immunotherapy. J Urol 153153:2029-2033, 1995.
Lam JS, Hillman GG, Younes E, Ali E, Maughan RL, Montecillo EJ, Pontes JE, and Haas JP: Effect of local tumor irradiation and interleukin-2 therapy in different murine tumors. J Immunotherapy 18(1):28-34, 1995.
Angulo JC, Montie JE, Bukowsky T, Chakrabarty A, Grignon DJ, Sakr W, Shamsa FH, Pontes JE: Interobserver consistency of digital rectal examination in clinical staging of localized prostatic carcinoma. Urol Oncl 1:199-205, 1995.
Forman JD, Duclos M, Shamsa F and Pontes JE: Predicting the need for adjuvant systemic therapy in patients receiving postprostatectomy irradiation. Urology 47(3), 1996.
Pontes JE: Issues on early diagnosis and treatment of localized prostate cancer. Urol Int 56:(1) 1-5, 1996.
Angulo J, Sanchez-Chapado M, Domingquez P, Lopez JI, Flores N, Pontes JE, et al.: Predictive prognostic factors in patients with transitional cell carcinoma of the urinary bladder. Arch Espan de Urol 49(4):374-384, 1996